Are you working in R&D of 5G/6G technologies? Are you interested in moving from open-source code editing, documentation study and months-long learning curve to a better way of using OpenAirInterfaceTM?
Allbesmart offers a user-friendly, plug-and-play, high-class solution, the OAIBOXTM!
Unpack, perform startup tasks and enjoy
Integrated with 5G core and FR1 RAN
Interoperable with major 5G modem manufacturers
Lowest 5G deployment cost for testbeds
World record for DL and UL throughput based on open-source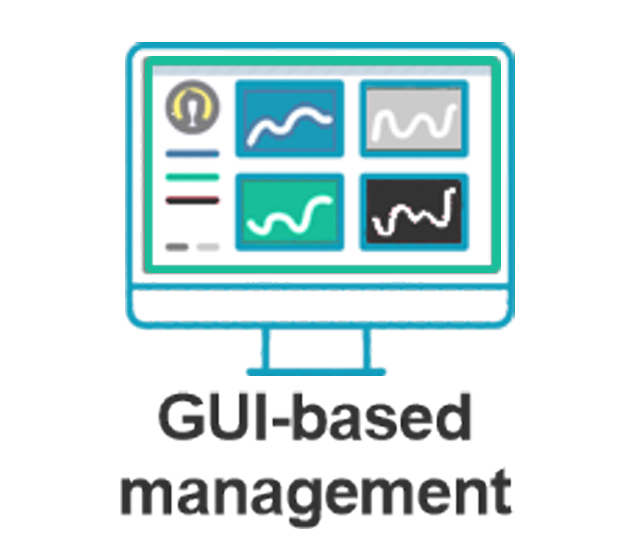 Intuitive graphical user interface for managing and monitoring
Simplifies 3GPP standard complexities through the management dashboard
Get new open-source 5G features aligned with the OAI roadmap
Choose the right OAIBOXTM for your needs
OPTIONAL items
(specify in your order)
AMD/Xilinx
T2 Telco Accelerator Card
OAIBOX40TM40&nbsp&nbspand &nbsp&nbspOAIBOXTM MAX&nbsp&nbsp specifications
5G NR SA (OAI 5G CN + OAI gNB)
OAIBOXTM 40: NI USRP B210 (inside the box)
OAIBOXTM MAX: Integrates with external NI USRP B200 / B210 / N300 / N310 / X310 / X410
OAIBOXTM 40: SISO&nbsp&nbsp|&nbsp&nbspOAIBOXTM MAX: MIMO (up to 4x4)
OAIBOXTM 40: Up to 40 MHz | OAIBOXTM MAX: Up to 100 MHz
OAIBOXTM 40: 156 Mbps | OAIBOXTM MAX: 800 Mbps
OAIBOXTM 40: 94 Mbps | OAIBOXTM MAX: 130 Mbps
Any 3GPP FR1 band up to 6GHz (defaults Bands 41, 77 and 78)
Compliant with 3GPP Rel. 15/16 (aligned with OAI roadmap)
16 (OAIBOXTM comes with 1 UE + 1 SIM configured)
10 dBm. The outdoor MIMO antenna gives a 10 dB extra gain with 70º HPBW
TDD with a configurable slot structure
Up to 150m (LoS) with external directive 5G antenna (optional)
46.08 Msps on the internal USRP
Cloud-based web application for network control and visualization of cellular network metrics
Access to OAIBOXTM Dashboard Premium , including real-time metrics:
DL/UL bitrates, RSSI, RSRP, RSRQ, SINR, SNR, CQI, MCS, BLER, RI, PMI, PHR
Data Export Capabilities:
gNB data logs exported in JSON format. The system stores the last 30 minutes
5G UE QUECTEL RM500Q | iPhone 14 Pro | Google Pixel 7 | 5G Dongle
Step-by-step 5G Lab exercises for students and researchers
-10ºC to 40ºC&nbsp&nbsp(14ºF to 104ºF)
7.5 Kg&nbsp&nbsp(16.5 lb)
The typical OAIBOXTM testbed
OAIBOXTM DASHBOARD COMPARISON
*for your existing OAI setup*
*Included in all OAIBOX offers*
gNB real-time plots: aggregated downlink and uplink bitrates
UE real-time plots: downlink and uplink bitrates, RSSI, RSRP, RSRQ, SINR, SNR, CQI, MCS, BLER, rank indicator, PMI
Visualization of attached UEs
Support of multiple UEs and multiple gNBs
Start/Restart/Stop gNB and CN5G
Save gNB detailed statistics and export to JSON format
Monitoring the status of CN5G functions (AMF, AUSF, SMF, UPF, UDM)
5G Lab Manual features to run the Lab exercises
3 hours of technical support
Testing OAIBOXTM as a 5G Small Cell
Testing 2 UE with MIMO using OAIBOX and OpenAirInterface TM
Testing 5G MIMO with OAIBOX MAX and OpenAirInterfaceTM
OAIBOXTM powered by Accelercomm Demonstrated at MWC 2023
OAIBOXTM Webinar
and demo
TESTING OAIBOXTM AS A PRIVATE 5G NETWORK
Transform your USRP into an open-source 5G MIMO test network
Unboxing and setting up the OAIBOXTM
OAIBOXTM achieves 5G World Record with OpenAirInterfaceTM
SUBMIT YOUR ORDER
OR ASK US A QUESTION
Have us contact you by filling and submitting the form
You are just a few steps away from ordering your OAIBOXTM. Please fill in the form and send it to us. We will get right back to you for the next steps.
We value our customers' insight and feedback. They are essential in improving the OAIBOXTM offer
Please note that your personal data will be used strictly for processing your request. We do not release any customer personal data to third-parties.
We're passionate about democratising wireless innovation
Allbesmart is a high-tech company, established in 2015, that provides consultancy services and deep expertise on 3GPP wireless network implementations in OpenAirInterfaceTM for customized 5G use cases.